Service 4 is a SimpliCity service operates between either Newton Mearns or Muirend and Broomhill.
Newton Means, Ayr Road
Mearns Cross
Clarkston Toll
Muirend, Sainsbury's
Cathcart, Spean Street
Battlefield, Prospecthill Road
Eglinton Toll
Hope Street, Central Station
Charing Cross
Glasgow University
Hyndland Shops
Broomhill, Crow Road
Several services terminate at Glasgow Univeristy.
Days of Operation
Edit
Service operates every day of the week. Service will operate every 15 minutes on Monday to Friday, every 15 minutes on Saturday mornings, every 30 minutes every Saturday afternoon, every 60 mins every Saturday evenings and every 60 mins every Sunday.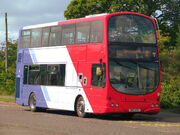 Related Services
Edit